There has been a lot of news and research lately about music for dogs. But what about felines? If any animal was ever going to be a lover of Chopin, it would be a cat, right? I mean, you can just picture a cat lounging on a couch, in his smoking jacket, listening to classical music while partaking in some catnip.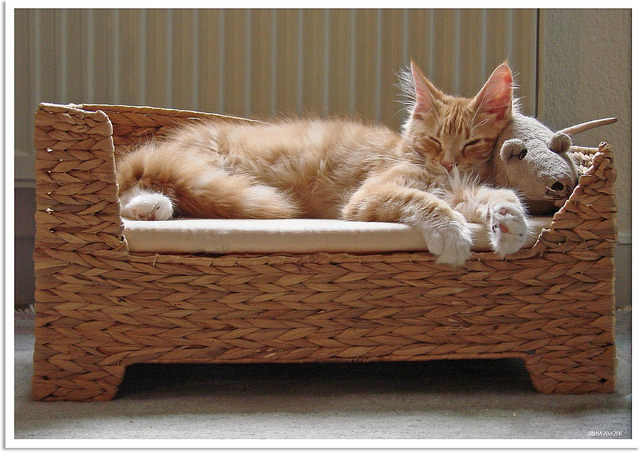 Davie Teie, celleist and musical engineer, wanted to know the answer to this, so he began developing music for cats.
According to his site:
"He contended that every species has an intuitive biological response to sounds present in their early development. Felines establish their sense of music through the sounds heard after they're born: bird's chirping, or their mother's purr. With this premise, Teie composed Music for Cats, incorporating feline-centric sounds and their natural vocalizations and matching it to a cat's frequency range. An independent study conducted by researchers at the University of Wisconsin and published in Applied Animal Behavior verified that Music for Cats resonates conclusively with its audience, writing that "'cats showed a significant preference for and interest in species-appropriate music.'"
How did they do this? They exposed cats to two examples of human music and then two examples of cat music and then "evaluated the behavior and response latencies of the cats to each piece."
Interestingly, they found kittens and older cats were more responsive to the music than "middle aged" cats were.
After two years of scientific research, his music was ready for real-life testing. He tested his compositions by sending them to famous cats around the world, including @Nala-Cat and @Baconcup
His Kickstarter campaign surpassed his goal, so know the music is available to all cats, not just the famous, to enjoy. You can purchase the tunes on his website, MusicForCats.com.
The below video is a sample of his music for cats. That's Bacon enjoying this lovely music. Play it for your kitty and see how they react!
Bacon Hears Music For The First TimeDid you know? All cats prefer feline music to human music, even Aussie kitties like Baconcup.

Posted by Music For Cats on Tuesday, November 17, 2015
Not sure I would want to listen to it for a long period of time, though the purr-type sounds are a bit soothing. More importantly, what did your cat think? Tell us in the comments!